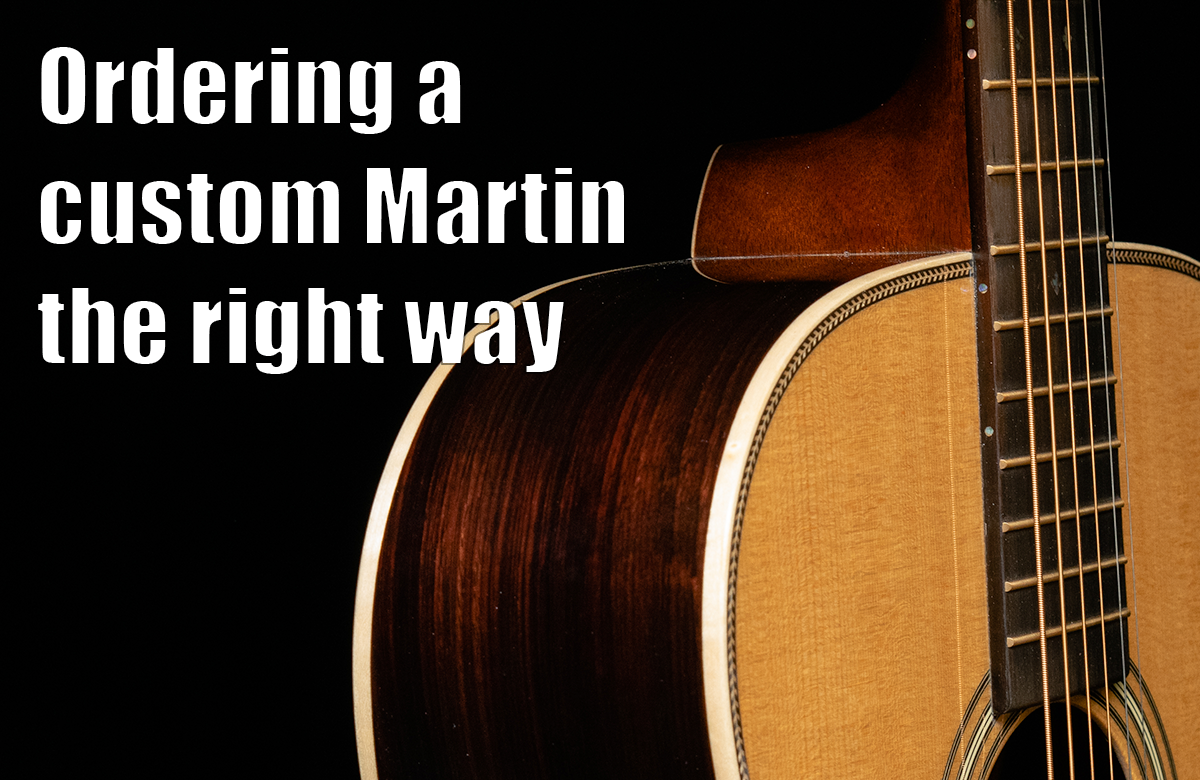 Ordering a Custom Martin the Right Way
You will likely agree that there are few things more exciting than shopping for and buying a new Martin guitar. The one thing that will top that experience is designing the guitar that will be created in the Martin Custom Shop just for you.

Maury's many years of experience with ordering custom Martins has shown him just how personal an endeavor this can be. Some guitarists seek but one or two significant alterations that will make an iconic Martin model perfect for their specific needs. Other guitarists have something elaborate in mind, based on a one-of-a-kind design that never before existed, except in their fruitful imagination. That is, until Maury's expert guidance helps them work out the specifications that will allow the Martin Custom Shop to make their dream come true.

Choices, Choices
Everything found on a Martin guitar has the potential to be customized for a discerning guitarist. That can seem a bit overwhelming when trying to sort through all the available options. So, we are taking the time to look at the Custom Martin Order process in an easy-to-understand guide, beginning with the basics.

It is also why we are including some links to Custom Shop Martins that Maury has ordered for our shop. We might be able to save you a great deal of time and expense, should you happen to be considering something similar to what we already have available, ready to ship out to you today!

Where to Start
At C. F. Martin & Co., each guitar built in the Custom Shop for an individual customer begins with one of their official models, which Martin refers to as the "base model." It is recommended that you begin your custom Martin design with a model that already has as many features you wish to include as possible.

Picking the best base model can greatly reduce the final price tag. If you are unsure of the right base model for you, just let us know and we will offer some suggestions, based on your end goal.

This method makes the most sense if you are looking for something as simple the classic D-18 with a traditional 1-11/16" nut width, rather than the modern 1-3/4" nut width, as seen in this Maury's Music Custom Shop order. Martin Custom Shop D Size 18 Style with 1-11/16" Nut.

When desiring something with greater customizations, it is good to familiarize yourself with the basic "building blocks" of customizable features on a Martin guitar. These include the Body, the Neck, the Adhesive used to put the body and neck together, and the lacquer finish used to protect the guitar from the elements. This blog post will focus on those areas.

In the next blog post, we will feature other important aspects to consider, such as the guitar's Cosmetic Appointments, its Hardware, and the onboard Electronics, if you are including a pickup system. The third blog post will look at two previous Custom Shop orders where the designer went all out to make a spectacularly unique Martin guitar, with various customizations most people do not even know are possible. Now, back to basics…


Popular Customizations – The Body
For those readers unfamiliar with Martin's model naming conventions, like D-28, most model names feature letters or numerals representing the "size" of the instrument on the left side of a dash, followed by numbers on the right side of the dash that refer to what Martin calls the instrument's "style." The style typically includes the type of woods used and various aesthetic embellishment's. Other common model names include 000-18 and OM-42.

The most common body sizes are the Dreadnought, which is signified in model names as D or HD, and the Auditorium size, signified by 000 i.e. "Triple-Oh" or OM i.e. "Orchestra Model." Martin D-14 Fret - Martin 000-14 Fret - Martin OM-14 Fret. Typically speaking, the 000 and OM have the same size and shape, but most 000s come with a short-scale neck and sometimes 5/16" top braces. An OM always has a long-scale neck and 1/4" bracing.

There are many other sizes available, of course, from the petite Size 0 to the super-sized Grand Jumbo. Martin 0-14 Fret Guitars - Martin Grand J-16E 12 String. While you might want to begin with a base model that has the size you desire, it is sometimes better to choose a starter model with the woods or aesthetic features you wish to include and then change the size.

For example, one could start with an HD-28 and change to the Jumbo size, which has the same side depth, but offers a narrower waist and wider lower bout, producing a more balanced voice, yet with tremendous volume. Or they could do what Maury did and start with the OM-28 and change the size to Jumbo, so the result is a J with the scalloped 1/4" top braces of an OM. This maximizes the resonating energy of the big, bold soundboard on this J Size 28 Style Maury's Music Custom Shop exclusive: Martin Custom Shop J Size 28 Style. It is also available with an upgraded Adirondack spruce top and a VTS Adirondack spruce top! That brings us to the next topic to explore when deciding on a custom Martin body, the woods.


Popular Customizations – Woods
Some of the most common customizations affecting the body of a guitar concern a change in the tonewoods. Most Martins made today have a soundboard made from Sitka spruce. Sitka spruce has a wide dynamic range and a warm, full tone. Perhaps you like most things about the 000-18 but would like it to have even more headroom to get a more powerful voice from harder strumming and fingerpicking. In that case, you could order a 000 in 18 Style with a top of Adirondack spruce, as used on the Authentic Series instruments. The greater definition and even greater dynamic range of Adirondack spruce is often preferred by hard-playing pickers like Jason Isbel and our friend Spoon Phillips.

If you love the OM-28 with all those complex rosewood overtones, but want something sounding a bit less dark and lush, and bit clearer and more colorful in the harmonics, how about an OM in 28 Style upgraded to an Engelmann spruce top? That top wood is ideal for nuanced fingerstyle playing and free-spirited strumming, as preferred by discerning artists like John Mayer. Martin Custom Shop 000 Size 28 Style w/ Adirondack Spruce Top - Martin Custom Shop OM Size 28 Style with Engelmann Spruce Top, Abalone Rosette and Fishman Pickup.

And then you could have your top treated with Martin's exclusive Vintage Tone System. But we will discuss that in an upcoming blog post.

The back and side wood can also be upgraded. A starter model featuring mahogany can be upgraded to sinker mahogany, or quilted mahogany. East Indian rosewood can be exchanged for other rosewoods, from Central or South America, or with rare Madagascar rosewood. And many other gorgeous tonewoods are available from Martin's world-famous acclimation room.

Have you ever seen waterfall bubinga, or highly-figured cocobolo? Martin has many exotic woods from faraway forests seldom seen on guitars. They also offer tonewoods like maple and cherry grown in a sustainable manner right here in the USA. If you do not see the species you seek on our list common tonewood choices, let us know what you are looking for and we will inquire with the Custom Shop for its current availability.

You can even mix and match tonewoods for your back and sides. Many customers love the three-piece back seen on the D-35, and many Custom Shop orders feature a three-piece back with a different wood chosen for the center wedge. We will take a closer look at some custom orders with upgraded woods in an upcoming blog post.
Popular Customizations – The Neck
Today, the default neck used on Martin guitars is the High Performance Neck. This consists of a Modified Low Oval profile matched to a fingerboard with the High Performance Taper, measuring 1-3/4" width-at-nut and 2-1/8" width at the 12th fret, matched with 2-5/32" string spacing at the bridge pins. These specs were chosen as the default Martin neck because the Custom Shop was getting inundated with orders to use those specs instead of the neck that came on the base model made with the old Low Profile or Modified V, previously used on the Standard Series and Vintage Series instruments.

While not every neck profile used at Martin is available for custom orders, many are. They include the Low Profile and Modified V or the Full Thickness profile similar to Martins made in the 1960. Even the neck shape of several pre-war Martins used in the Authentic Series may be ordered from the Custom Shop. You can even supply Martin with a specific guitar (including those made by other luthiers) and have the Custom Shop replicate its neck shape to the best of their ability.

Likewise, the fretboard width can be ordered with wider or narrower nut widths and different string spacing. For example, a neck ordered with the vintage 12-fret width of 2-1/4" can come with a nut width of 1-3/4", 1-13/16", 1-7/8", and even a full 2". String spacing for such guitars include 2-5/32", 2-1/4", 2-5/16", or 2-3/8".

The wood used to make the neck can be customized, as can the type of reinforcement inside the neck. If you want an ebony truss rod like a 1930 Martin or a steel T-bar like a 1940s Martin, just say the word and Maury will make it happen.

Another common customization of a Martin neck is the string scale. If you love the Martin D-18 but prefer the shorter scale like a Gibson J-45, consider it done. And if you like the comfort of the 14-fret 00 Grand Concert size but want to change it to a long scale neck for a little more string tension and volume, just say the word. Martin has made many 00 and 000 bodies with long-scale necks, going back to the early 1930s, and Maury's Music has ordered such guitars from the Custom Shop as well. Martin Custom Shop 000 Size 18 Style long scale, left-handed.


Popular Customizations – Adhesive and Finish
In 1966, Martin began constructing their instruments with modern compressive glue, aka white glue. In the early twenty-first century, Martin brought back vintage hide glue to create the first Authentic Series instruments. Hide glue is now available as a custom order (yippee!)

Such natural protein glues require a great deal of effort, as they must be refrigerated when not in use, and then heated up before the glue can be applied. Hide glue also requires considerably more time to apply and to dry. That is why it comes with a pretty solid upcharge. Many people find it is worth it. While white glue has worked wonderfully well on Martin guitars for decades, hide glue provides a superior bond that reaches farther into the wood, facilitating better transference of kinetic energy from one part of the guitar to the other.

Speaking of the Authentic Series, another feature now available is the Thin Finish Option. This is traditional nitrocellulose lacquer that is not as thin as the finish on a brand-new Martin from 1937 – it's much thinner! This option replicates, down to the micron, the thinness of the finish on 1930s Martins after 85 years of seasoning, one of the main reasons they sound so amazing.

The Thin Finish Option facilitates greater resonance and responsiveness and is totally worth the upcharge – IF you are willing to baby your guitar. The thinner finish also means you can get dings in the neck and body easier than with the thicker, modern nitro finish used on the Standard Series and Modern Deluxe Series instruments. Please bear that in mind when deciding upon which finish option you want on your one-of-a-kind Custom Shop Martin.

Many satisfied customers have combined the vintage hide glue construction and thin finish to achieve custom guitars with serious vintage Martin mojo. We will look at other ways to vintage-up your Custom Shop Martin in our next blog post.

If you are ready to inquire about a Custom Shop Martin, see our Martin Custom Guitar Request Form
NEXT TIME: Bracing, Inlays, Sunbursts, Hardware and More!