Thursday, December 31 2020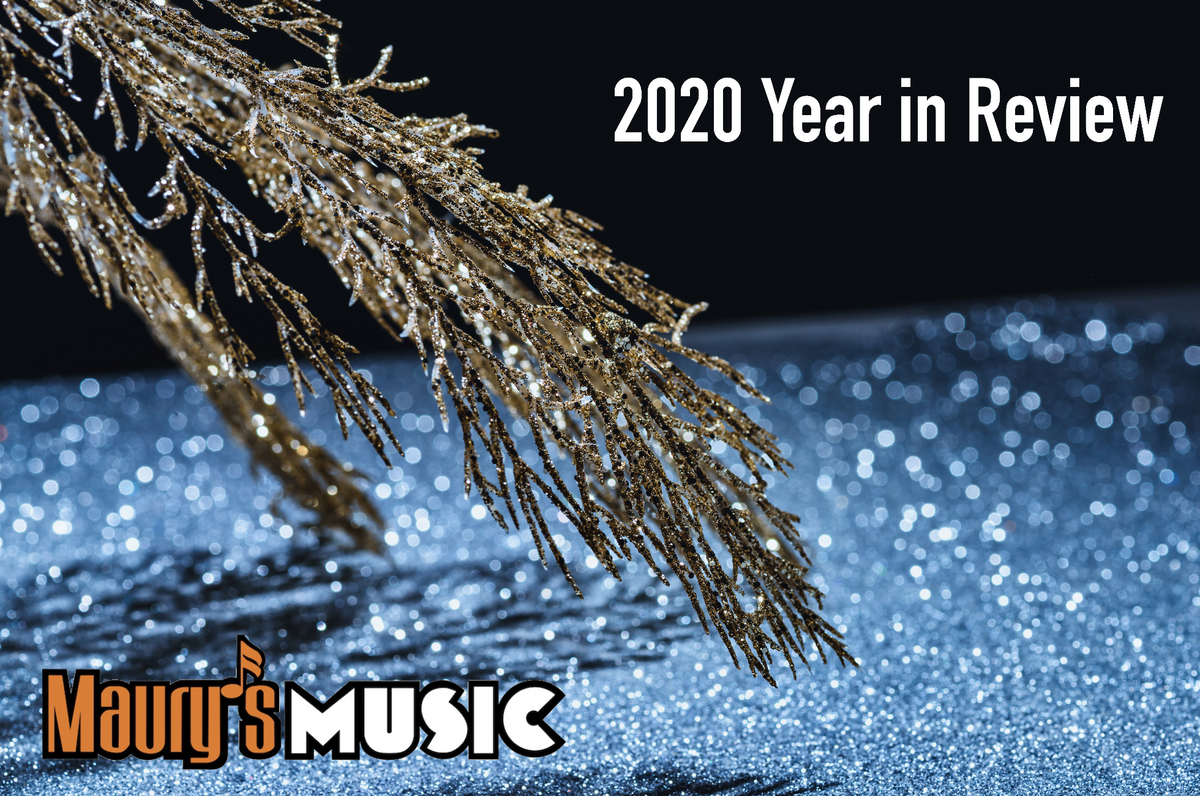 To Auld Lang Syne and the Coming New Year!
Our final blog post for 2020 looks back across this most unusual of years to remind all of us how the power of music has brought so many together when they couldn't even be in the same room. Maury had a wonderful time making music via the internet with so many talented artists. And we have enjoyed experiencing the music of our many friends and customers who have shared their own love of music on YouTube and Facebook and other forms of social media.

And we take time now to revisit some of the unusually impressive Martin guitar models that were released in 2020, in price ranges to fit every budget. These include the limited edition D-42 Purple Martin Flamed Myrtle, with its gorgeous one-of-kind inlays, a top of heavy bearclaw Engelmann spruce,
and a back and sides of flamed myrtle. Representing the highest echelon of guitar making artistry, this collector's item instrument sounds even better than it looks.
When it comes to Martin guitars that are limited only by how fast they keep selling almost as soon as we can get them in, 2020 bought us new acoustic-electric additions to the amazing Modern Deluxe Series and the professional performing musicians' 16 Series, as well as awesome upgrades to the surprisingly
affordable X Series, and last but definitely not least, the revolutionary SC-13E that represents a major breakthrough in ultra-modern ergonomic guitar design.

SC-13E
Martin's main imagination wizard is Fred Greene, Vice President of Product Development. He has been working on the design of special guitar made with an ergonomic shape, and a neck that was likewise shaped for comfort that could extend the pleasure of playing a world-class guitar indefinitely. The grand
result of the countless hours of design, innovation, and testing is the SC-13. The amazing neck has a special helical shape that adjusts to your hand as it moves up the fingerboard, for effortless fretting. Martin's first 13-fret guitar, the neck has all the advantages of the 25.5" long-scale Martins, but has the super-fast playability of their short-scale guitars! And unique asymmetrical shape of the body shifts the treble side's lower bout away from the heeless neck, allowing for a cutaway that
makes playing in the upper-most frets easier than ever before. It is an acoustic guitar designed with the playability of an electric guitar, whether it is played unplugged
or when an amp or PA is plugged into the onboard Fishman electronics. And it has stunning figured Hawaiian koa on the back and sides that make it a marvel of a showpiece guitar on stage or in your living room. The COVID-19 crisis greatly impacted Martin's production schedule during the first half of the year. So they remain behind on getting the SC-13E out in to players' hands. But every guitarist who already owns one absolutely loves this new, cutting-edge Martin. Give us a call if you would like to know more.

GPC-16E
Made for today's concert professional, the GPC-16E Mahogany offers the righteous twenty-first century looks of Martin's Grand Performance body shape with the ergonomic comfort of the 000 side depth, which gives this model a more classic Martin tone, while remaining exceptionally versatile for singer-songwriters who alternate between strumming, fingerpicking, fingerstyle instrumentals in open tunings, and stepping out front to take a lead solo in front of a band and turning up the volume on the Fishman Matrix VT Enhance NT2 electronics. And it records great when unplugged too!

000C12-16E Nylon
This cutaway 12-fret 000-size Martin is made with a full 26.44" long scale neck, just like Willie Nelson's guitar "Trigger" while having a low profile and a 1-7/8" nut width that provide classical guitarists a comfortable playing experience while putting out plenty of tone when not plugged into the Fishman Matrix VT Enhance NT1 electronics that provide ideal string to string balance when played through an amp or PA. For those who love the nylon string experience, this makes for excellent gigging guitar.

D-16E Mahogany
Martin added some wonderful new guitars to the popular 16 Series, including the D-16E Mahogany with all-solid tonewoods including mahogany back and sides, and a high-gloss top of high-grade Sitka spruce, with scalloped braces. Unlike other Martin dreadnoughts, this model has the side depth of a 000 matched to the classic dreadnought-size top and back. Those customers who have already purchased this model love how comfortable it is to play when sitting down, or when standing up, wearing a guitar strap. And being less boomy in the bass, this powerful yet articulate dreadnought is much easier to amplify through large sound systems, via the Fishman Matrix VT Enhance NT2 electronics, making it ideal for the touring professional or the weekly open mic.


BC-16E
The BC-16E is one of the few acoustic-electric bass guitars on the market that has truly satisfying unplugged tone. East Indian rosewood back and sides under a solid Stika spruce top with forward- shifted scalloped bracing make for a tone-full, satisfying experience when practicing or playing on the porch with friends, while also having onboard Fishman electronics for when you need to plug in.

New Modern Deluxe Models
Speaking of acoustic-electric innovation, the elite Modern Deluxe Series now include the first guitars to feature Fishman's new Fishman Aura VT Blend technology, with astounding High Definition sound that captures the tone of the actual acoustic guitar better than anything else on the market. This technology is currently available on the D-28E Modern Deluxe, 000-28E Modern Deluxe, OM-28E Modern Deluxe, and D-18E Modern Deluxe. The 18 has solid Genuine Mahogany back and sides, and the others Solid Indian Rosewood for the back and sides. Otherwise, they all share the combination of luxury features exclusive to the Modern Deluxe Series. These include torrefied VTS Sitka spruce tops, with VTS Adirondack spruce braces scalloped in the Golden Era style, a composite carbon fiber bridge plate, natural protein glues, glorious vintage Martin styling, including wooden bindings, and the wonderfully comfortable Vintage Deluxe neck profile, which many feel is the most comfortable neck profile Martin
has ever created.


X Series Upgrades
The affordable X Series has several new acoustic-electric models, like the gorgeous D-X2E Burst and D-X2E 12 String, which come with the 2020 upgrades of a solid wood fretboard, bridge, and neck! As too do all X2 models. And there is also the super-cool, all-black OMC-X1E Black, with super hero good looks and versatile voice and playability. Be sure to check out all the X Series models right here on our website, including the commemorative collector edition DX Woodstock 50th Anniversary model, and the newly-arrived GPC-X2E Rosewood!

While 2020 is coming to a close, the many 2020 Martin models will continue to arrive well into the New Year and beyond. The COVID-19 crises greatly disrupted Martin's production pipeline for several months. Ever since, they and we at Maury's Music have worked overtime to get as many Martin guitars into the hands of American guitarists as possible. Music has proven to be a spiritually uplifting force that has helped many people in times of trouble, remembrance, and in times of celebration. And we cherish the tales we keep hearing from people whose music has been made with guitars purchased from Maury's Music of Coaldale, Pennsylvania. We are grateful for the support and patronage of our many satisfied customers, who have made Maury's Music one of the most successful and well-loved Martin dealers ever. And we wish everyone in the USA and around the globe a very safe and healthy and truly happy New Year!