Thursday, November 19 2020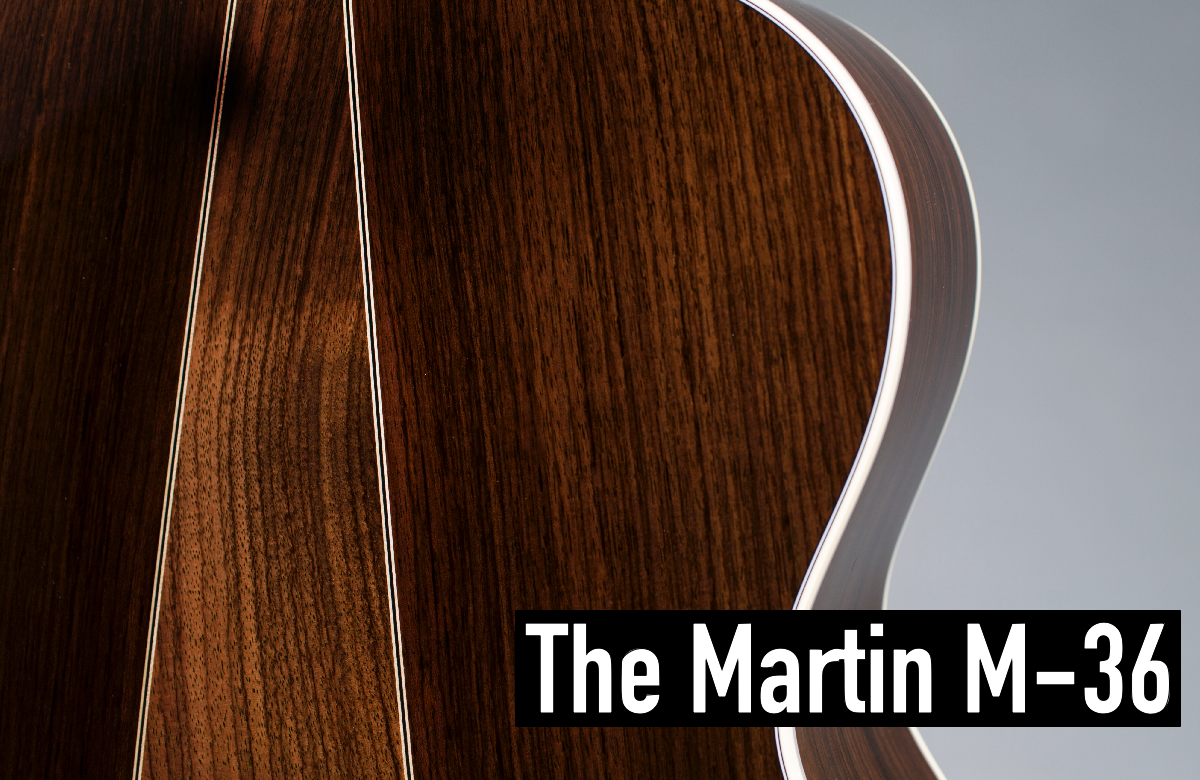 Q: Why isn't the Martin M-36 called an M-35? A: Because it is so very special.

The M-36 is a classic Martin model with a unique configuration of features found nowhere else. Those familiar with Martin models and their various aesthetic stylings, see the M-36 and recognize how closely it resembles guitars made in the classic Style 35 – so much so, in fact, that people often wonder why it isn't called an M-35. We thought we knew that answer, but we also took the time to reach out to experts in Martin models and Martin history, both inside the company and outside, so we could state once and for all the real reason the M-36 isn't an M-35.

The simple answer is, the M-36 has certain features that the other Style 35 instruments did not have. So, it was classified as a separate species, as it were. Can you spot the features? Well, some of those differences you could hear but not see, unless you cut your M-36 open. But that would void the warranty, so we would recommend against such investigations.

The M-36 is made in the Grand Auditorium size (aka 0000) that combines the comfortable side depth of a 000 with a top and back that have width wider than even the mighty Dreadnought size. And its design elements add up to a tone and voice that is exceptionally versatile for strumming, flatpicking, and fingerpicking. Even when compared to other M-size Martins that have come and gone over the years, the M-36 has a special voice that people keep falling in love with year after year.
Introduced in 1978, the M-36 was the second Martin model made in the new body size called Grand Auditorium. The first was the M-38, introduced the previous year. At the time of their introduction, these new Ms were the only option for a player who wanted a Martin with larger size and sound than a 000 but without the deep and bulky shape of a Dreadnought.


The M-36 was a more-affordable M, built without the expensive abalone inlay of an M-38, and adding features previously only found on the D-35, which was growing in popularity. The most notably Style 35 feature used on the M-36 is the three-piece back that looks so awesome!

The M-36 looked so much like the D-35 that the first twenty-six examples produced are actually stamped M-35! It has the same upscale neck binding and three-piece back like a D-35, featuring a matched pair of outside panels surrounding an inner wedge of contrasting grain and hue. But it retained extra features inspired by the M-38, so that it has significant differences from Style 35 in its looks and its construction, if one pays attention to the details. And thus they decided it belonged to a new style between 35 and 38. And thus was born the only model ever made in Style 36.

Firstly, it has a rosewood bridge like the M-38 did. This gives it a singular appearance since it is the only Martin currently made that combines a rosewood bridge with an ebony fingerboard. Why this is, goes back to the years before the M was an official size.

The molds used to create the 0000 body size had been sitting idle since the 1930s, when they were invented to make the F size Jazz guitars, with their arched, carved tops and often with violin-style f-shaped sound holes. While shallower than the Dreadnoughts, the F had the widest bottom bout of any Martin up until that time.

In the 1960s, some vintage Martin repairmen began replacing the worn-out arched tops on F-size guitars with flat tops, for local musicians in San Francisco and New York City. A cult following ensued, as players came to hear the volume and projection benefits of a large, wide soundboard with the controlled bass and quick projection that comes from a shallow body depth.

One of those musicians was David Bromberg, who acquired just such a guitar and had it converted to a flat top that also had a rosewood bridge. It was Bromberg who convinced C. F. Martin IV to offer models made with those old size F molds, and to make them with rosewood bridges.

Rosewood has less density and specific gravity than ebony. So, not only does it make the bridge look different, with the attractive, multi-colored banding of rosewood, it also transmits physical energy differently than ebony. So, it makes the guitar sound differently as well.


The rosewood bridge is partly why the M-36 has such a charming voice, that sounds more open and spacious, with a punchy midrange and clearly defined bass and treble notes, rather than having as thick and murky a body resonance typical of Martins made with a Sitka spruce top and Indian rosewood back and sides.

The differences are subtle, but they are there and consistently so when compared to custom order Ms made with ebony bridges. So, Martin retained the rosewood bridge feature when they brought the M-36 back into the pricelist in 2007, and kept that feature when the model was reimagined in 2018. That was the year the M-36 was fitted with Martin's modern High Performance neck that combines a 1-3/4" nut width with the sleek High Performance taper to the jet black ebony fretboard, bound in Antique White and adorned with classic mother-of-pearl fret position markers, and backs it all with a solid wood neck carved into Martin's comfortable Modified Low Oval.

While you don't see it from the outside, perhaps the most important difference that sets the M-36 apart from the D-35 is the bracing. The D-35 has 1/4" top bracing, as does the HD-35 that debuted the same year as the M-36. And they had smaller back braces than other dreadnoughts of that time. The M-36 has the scalloped 5/16" top braces and back braces used on the traditional Dreadnoughts from the D-18 to the D-45. So, the feature that made Style 35 its own thing in the first place wasn't used on the M-36.

Custom and Limited Edition Ms that are made with 1/4" bracing may be more responsive to fingerpicking, but they do not bang out the clear yet powerful voice one hears from an M-36 when it comes to playing leads or strumming with a flatpick. And it is the clarity and ability to cut through other instruments in a band situation that is where the M-36 really shines. But just like a Dreadnought or Grand Performance size Martin, it can be used by fingerpicking singer-songwriters to very good effect.
Another feature that set the M-36 apart from the D-35 has since been adapted for the entire reimagined Standard Series. It has aging top toner.

Today, aging toner is a standard feature and was commonplace across Martin's various vintage and retro models in recent decades. In the 1970s, the M-36 and M-38 were the first and only models sold with what was then a new kind of toner, which gave the guitar the appearance of a much older Martin.

Martin may have done this because of how the scalloped bracing gave those models a more vintage-like voice than most Martins made at that time, which did not have scalloped bracing. And while the Dreadnoughts of Styles 28 and 35 got vintage-esque herringbone purfling to go along with their new scalloped-braced H models, the Ms got aging toner to go along with the black and white ply bindings that originated on the vintage Martin archtop guitars from the Jazz age.

Today the reimagined M-36 has forward-shifted bracing, an even more vintage-Martin feature, which increases bass response and accentuates the reverberative tone of the scalloped top braces. So, that unique voice has been further enriched, just like how the High Performance Neck has made this exceptionally versatile Martin model even more versatile.

The M-36 quickly became the most popular of all Ms, and now it is the only M in Martin's Reimagined Standard Series of professional-level acoustic guitars. It represents a legacy of innovation that included Ms at all levels of prices and specifications. Ms have come and Ms have gone. It is the M-36 that has withstood the test of time and belongs on the shortest list of iconic Martin models.

Almost an M-35, the powers that be at C. F. Martin & Co. decided that the rosewood bridge, darker top toner, and standard-size scalloped bracing set their new Grand Auditorium model apart from Style 35 guitars, enough so that it deserved its own style name. Perhaps they envisioned future Style 36 instruments. But in the end, it has remained the one and only 36, and a very special musical instrument indeed.

With its 0000 body size and elegant yet understated aesthetic appointments, the M-36 is one of the great legacy models in the Martin catalog. It may be less well-known than Martin models like the D-35, but it just keeps on selling, decade after decade, and with very good reason. Nothing else sounds quite like a Martin M-36.
I have owned three Martin M36 guitars over the past 30 years. They are the Swiss Knife of guitars in that they are very versatile and work well in a variety of uses.
Posted by
Larry Sprigg
on
11/19/2020 - 12:58 PM
I'd add one to my harem someday. Lol
Posted by
Philip Watson
on
11/21/2020 - 10:54 AM
I've had an M-36 since Nov 2019. One of my top 2 of my 17 "tools". A most versatile guitar. Play one, you'll know what I, and others, have discovered.
Posted by
Johnny Bearden
on
12/14/2020 - 09:14 PM
I'd add one to my arsenal but $$$. Dang me and my lack of disposable $$$. Sounds fantastic .
Posted by
Goodson basinger
on
01/02/2021 - 11:57 AM