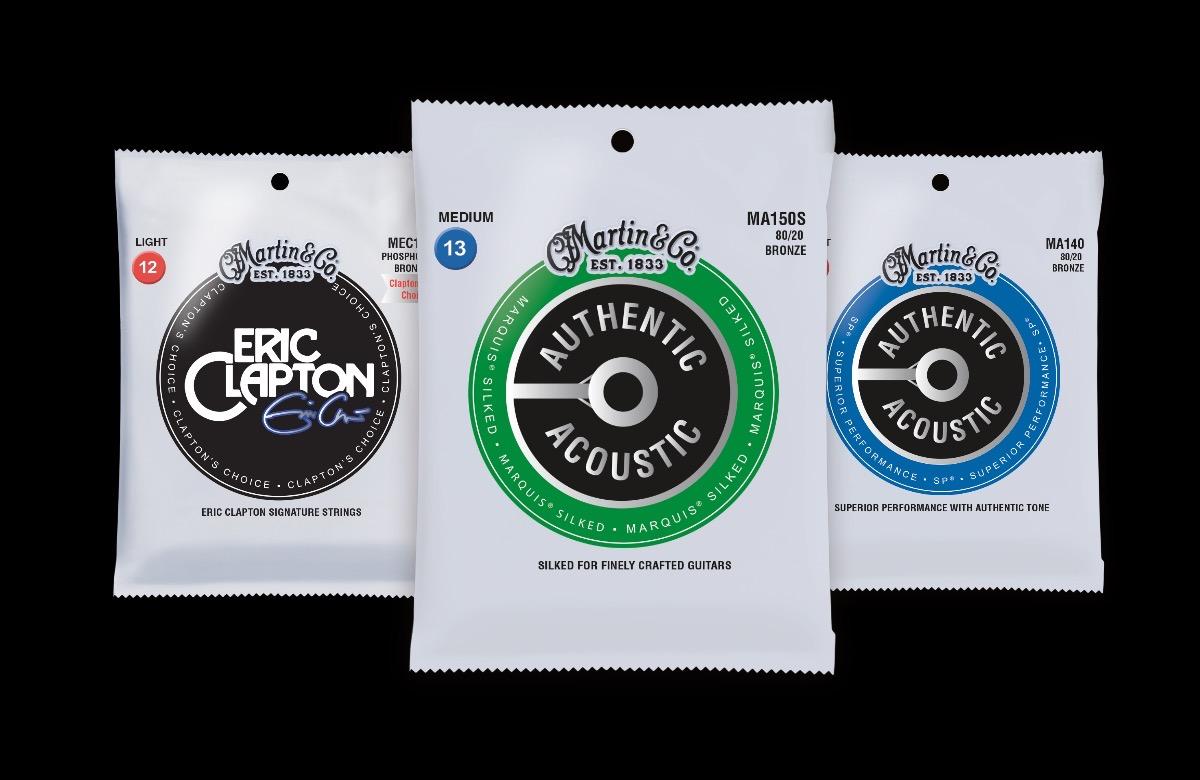 Martin Acoustic Guitar Strings - Worthy of the World's Greatest Guitars!

The voice of your acoustic guitar is the font of its unique musical personality and an extension of the artistic expression of the guitarist making it sing. But the vocal chords of that beloved musical instrument are the strings.

C. F. Martin & Co. offer some of the finest guitar strings ever made. Their many varieties of strings are the results of a design and engineering process that features exclusive technology and precision manufacturing unlike any other. Today Maury's Music takes a look at Martin's awesome Authentic Acoustic brand of guitar strings, as well as their specialized brands.

Martin Authentic Acoustic Superior Performance SP® Strings

Today's Super Performance strings are the Authentic Acoustic SP varieties, which feature tin-plated wire for the unwound strings and the cores of the wound strings. This plating repels corrosion for longer life and better tone. And each wire is made from a higher tensile strength that resists breakage and increases stable tuning, while producing fuller tone that is more balanced and with greater power and projection than other acoustic guitar strings.


Authentic Acoustic SP strings come with wound strings in 98/2 Phosphor Bronze and 80/20 Bronze alloys. They can also be purchased in Martin's traditional Silk and Steel Folk variety. The Phosphor Bronze SP strings are by far the most popular, offering the greatest vibrancy across the mids and lows that can accentuate the complexity in a guitar's harmonic overtones. They retain their initial "new string sound" for a long time regardless of the tonewoods of a particular guitar.
The 80/20 Bronze strings are a good choice for guitars with a thick or dark voice, such as heard from rosewood back and sides, because they provide great clarity that starts off bright and mellows over the first few playing sessions, while offering deep bass and soaring trebles. Some players, like our friend Spoon Phillips, prefer 80/20s over PBs on all types of guitars, and he would encourage you to try them for at least week on your favorite guitar and see if you agree.

But Spoon does concede that Authentic Acoustic SP Phosphor Bronze strings can add a great deal to the tone enhancement to inexpensive guitars. "So, if someone has an old beater or pawnshop special and they want to breathe new life into it, slap on set of PB's and they may just be amazed at how much better it can sound."
Martin's Authentic Acoustic Silk and Steel strings were originally designed for players that want to put steel strings on lightly-built guitars intended for gut strings. They are made with less tension at concert pitch, while having a rounder, softer tone that many players love no matter what guitar they put them on. Easy on the hands and mellow on the ears, try out some Silk and Steel strings for yourself!

Martin Authentic Acoustic Marquis Silked® Strings
These Marquis Silked strings were created with vintage instruments and other high-end guitars in mind, by taking Martin's Authentic Acoustic strings and wrapping the ball end with fine silk. This added feature protects aging bridge plates and pin holes from further wear, while also allowing bridge pins to fit more snuggly in holes that may be larger than they once were.

Martins makes no claim that the Authentic Acoustic Marquis Silked varieties sound any differently from their usual Superior Performance strings, just like they make no claim that higher grade tonewoods sound better than lower grade woods, or that abalone trim inlaid around the top, sides, or back of a guitar has any effect on tone. But many guitar players believe otherwise. As usual, our friend Spoon Phillips has an opinion on such matters.
"I have played Martin Marquis strings for years, since long before the engineering improvements introduced with the Authentic Acoustic brand," Spoon recently told us, "And I believe there is a subtle effect on tone, for the better, because of some sort of filtering that goes on where the string transfers energy to the bridge and bridge plate. I hear greater detail because of a reduction in sonic shimmer, right up where the highest fundamental notes mix and marry with the overtones."

Take Spoon's challenge and try a set of SPs for ten days and a set of Marquis Sliked strings for ten days and let us know if you hear a difference!

Authentic Acoustic Lifespan® 2.0 Strings

Martin gave their popular Lifespan string varieties a reboot with amazing results! The Lifespan 2.0 strings offer the same engineering and manufacturing precision as the Superior Performance strings with the additional application of a top-secret anti-corrosion technology that protects both unwound strings and the wound strings from all sorts of corrosion. Available only from Martin, this patented wizardry preserves that "fresh set sound" while reducing raspy noise when the fingers slide up and down the strings. And all without compromising the tone or feel of your favorite Martin strings!
If your perspiration is hard on guitar strings, or just hate changing strings, or want to keep that right out of the box tone last as long as possible, then Authentic Acoustic Lifespan 2.0 strings are the choice for you! A little extra in price, they add up to huge savings over a year's worth of extra playing time.


Authentic Acoustic Flexible Core Strings

These Flexible Core strings are a lighter-gauge version of Martin's Superior Performance strings, designed to allow easier and more extensive string bending, ideal for blues and rock lead guitar. This wonderment is achieved in part by using thicker wrap wire and thinner cores, which results in a more relaxed feel and easier silked.
Even among basic chord strummers, Authentic Acoustic Flexible Core strings are greatly loved by guitarists who suffer from repetitive stress issues and those who want to reduce finger fatigue in general, for longer, more enjoyable music making. And so too do guitar masters, as Tommy Emmanuel only play's Martin Authentic Acoustic Flexible Core light gauge strings!

Eric Clapton Guitar Strings

And speaking of legendary guitarists, these special strings were designed expressly for Eric Clapton. Formerly known as "Clapton's Choice," they are an exclusive version of Martins phosphor bronze strings created to resist corrosion while having ever-so slightly greater tension, to give the maestro of guitar maestros the playability and response he loves most, while having their own special sound. Great for short-scale guitars, nothing else sounds and feels quite like them -no matter what instrument you put them on.

Retro® Strings

A special nickel-copper alloy is used to make Martin Retro strings so that they accentuate the personality of a guitar's tonewoods to produce a sound unlike anything else available anywhere else, which remains consistent for a very long time.

Known as the Monel process, strings of this sort were originally created decades ago, originally intended to help reduce issues with early magnetic sound hole pickups. Guitarists quickly realized the unplugged tone of the nickel-infused windings was unique and enjoyable. But the process was difficult to perfect and expensive, so Monel strings faded from the limelight. Today, Martin uses modern technology to create their proprietary Monel wire.

Naturally resistant to corrosion, Martin Retro brand acoustic guitar strings also reduce pick attack "thwack" and string noise in general, so woody tone of a great acoustic guitar comes to the forefront, and stays that way with amazing longevity. A great many guitarists prefer them on guitars made with mahogany or maple. But others like them on rosewood guitars as well. And many agree they sound like they are "broken in right out of the box" while maintain the same tone happily ever after. And like the Monel strings of old, they excel on plugged-in acoustic-electric guitars.

The Original M140 Light Gauge Strings

Celebrating their 50th Anniversary and back by popular demand, Martin's M140 80/20 strings are available in light gauge only. They offer deep lows and brilliant highs, with wonderful note to note definition and highly-detailed definition across the harmonic spectrum. Classic strings for a great price, the Original M140 Light Gauge Strings are a living legend of Martin excellence.

Titanium Core Acoustic Guitar Strings

Good enough for the Martin D-200 and other museum pieces, these Titanium Core strings are a marvel of modern engineering. They start with a unique, mellow tone that stays the same no matter how often you play your favorite performance guitar, or how long you leave a collectible heirloom instrument its case. Eric Clapton tribute artist and Martin Clinician Craig Thatcher has played a Martin Museum guitar that had the same Titanium Core strings on it for over a year and swears they sound exactly the same!

One of the secrets involved is using pure nickel wrappings around a titanium alloy core as part of an overall patented technology that is exclusive to Martin, which provides stable, corrosion-free exteriors and flexible cores for superior comfort and playability. With a singular sound all their own, Martin's Titanium Core strings have to be heard to be fully appreciated.

Even if you already have a favorite variety of acoustic guitar strings, you will know which brand and type of Martin acoustic guitar strings will be your true favorite, until you've tried them all!

THANK YOU for calculating the string tensions in pounds for various gauges. I've been looking for something like this to explan to my clients why it's a significant issue to move from 11's to 13's on a guitar not built for heavy (so called "Medium") strings. Kudos. I also learned a lot from your descriptions of the various sets.
Posted by
Carla Kelly, Luthier
on
05/23/2021 - 03:45 PM
This report offers so much interesting information that every acoustic player needs sooner than later.In the end, nothing addresses the individuals need like buying and trying a number of types. I even have two instruments that use a .014 on the E string and another uses a .047 on the 6th string because a .056 causes feedback. So, thats just me. John LaFollette Cols Ohio
Posted by
John F LaFollette - Owner and only employee of LaFollette
on
06/06/2023 - 11:55 PM