Thursday, February 27 2020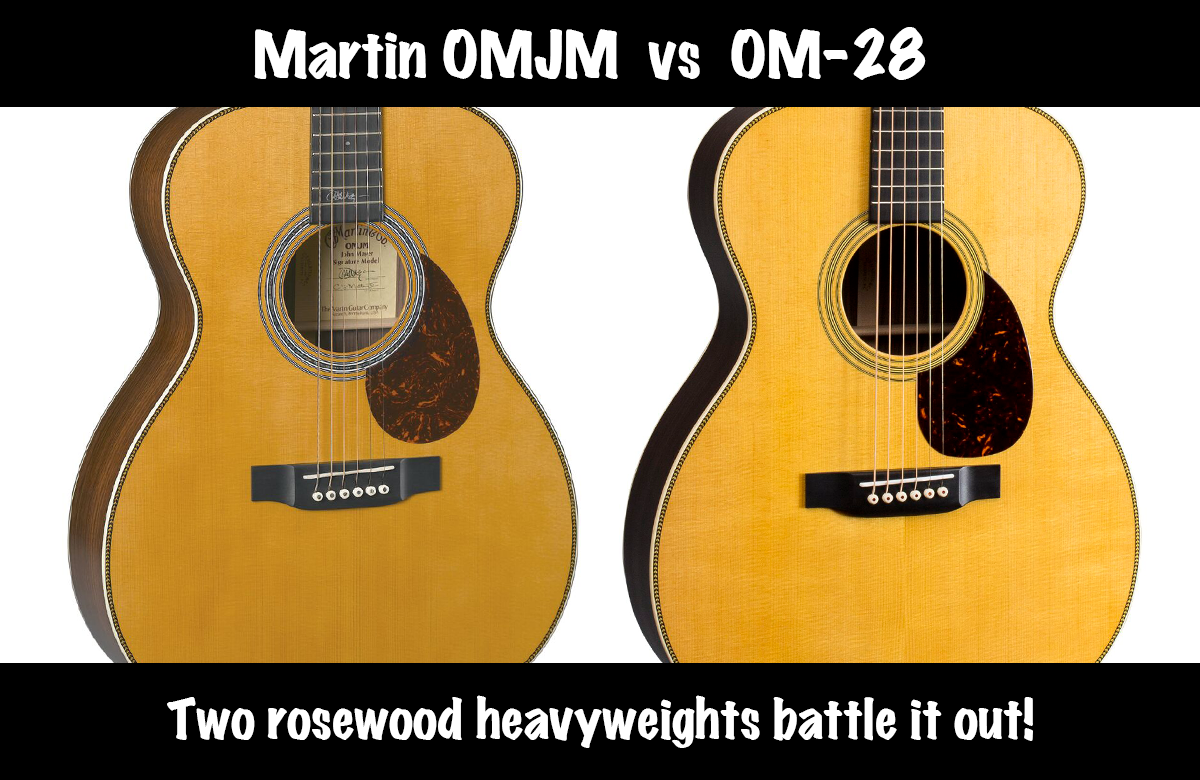 With its Auditorium body size, long-scale neck, and light, scalloped braces, Martin's Orchestra Model represents both the first truly modern 14-fret steel string guitar and one of the most popular and influential acoustic guitar designs in history. An OM is so versatile it can literally do anything all other guitars can do, and do it well.
Nobody knows this better than virtuoso superstar John Mayer, whose first Custom Signature Edition, the OMJM, proved so popular it remains in production to this very day for very good reasons – it is AWESOME. And the one we have in stock right now has tonewoods with magnificent grain. Maury's Music has heard from various customers asking how it differs from the Standard OM-28, another of our perennial best-sellers.

Today's Standard Series OM-28 and the OMJM each borrow features from the now retired OM-28V from the Vintage Series, like the one Mayer used for many years before he approached C. F. Martin & Co. to create his signature models. But they also have significant differences from one another. So let's take a closer look at these two excellent Martins.

In terms of musical instruments, both guitars have a back and sides of solid Indian rosewood under a finish of full-gloss nitrocellulose lacquer. The main differences are found in the species of spruce used for the soundboard, the shape and size of the neck, and bracing.

Martin OM-28 (2018) reimagined


The Sitka spruce braces on each model are scalloped to make them extra-flexible to get that OM top moving with optimal resonance. But where the OM-28 has all 1/4" bracing like other modern Martin OMs, the OMJM has 1/4" tone bars surrounding a main X brace that is 5/16" in width.

The wider X brace is a feature seen on the earliest Orchestra Model Martins, which first appeared in the catalog in 1930. But the reason for the stiffer X brace in this case is because the OMJM does not have a top of Sitka spruce, but rather of Engelmann spruce.

Engelmann spruce is softer and more pliant than Sitka spruce. When it comes to tone, a Sitka top will sound full-bodied, with a rich darkness in the bottom end, and get quite throaty when under heavy strumming. An Engelmann top has very clear, clean notes with more air between them. It can be overdriven easier, especially when new, but offers an angelic voice when played with light, nuanced picking. But it also has more complex harmonic overtones. While it can sound less complex than Sitka at first, overall, those Engelmann/rosewood overtones grow richer and more colorful, and much more complex as the top ages across the years.

Martin OMJM John Mayer

The OM-28 has Martin's modern High Performance Neck, with Modified Low Oval profile at the back, and the 1-3/4" width at nut that has been typical for OMs since they were first invented. The Mayer model is one of the only Martin OMs ever made with a 1-11/16" width at nut. Paul Simon's signature models also had this feature. Mayer wanted a guitar that felt more like the guitars he grew up playing, and more like the electric guitars he still plays today. This is also why he chose to have this model made with Martin's Low Profile neck shape.

When it comes to looks, the differences are more obvious. The OM-28 has Antique White binding and the Style 28 mosaic back strip, which resemble a Martin made in the 1960s, while the OMJM has grained ivoroid binding and the Zig-zag back strip like a pre-war Martin. Otherwise, the OM-28 very much looks like a pre-war OM-28 from the front, with its Diamonds & Squares fretboard position markers, black white ply rosette and Bold Herringbone purfling around the top. The OMJM has unique position markers with small dots and marker at the 12th fret of two dots and a center diamond, along with Mayer's autograph inlaid in pearl in the upper frets. And while it has the same Bold Herringbone purfling around the top, it gets a gorgeous sound hole rosette of high-color abalone pearl.

Another bonus for the OMJM is that it comes standard with onboard Fishman electronics.

It is a tough choice for anyone to make. The Standard OM-28 remains the rosewood OM to which all others must compare, and often fall far short of matching. But John Mayer's Custom Artist Edition OMJM is one of the few that compares extremely well to the OM-28, which is why many, many guitarists own one – for its sleeker neck, upscale appointments, and awesome Engelmann spruce tone. When it comes down to it, both of these exquisite, handmade Martin OMs are bad to the bone. Herringbone, that is! Which one is on YOUR radar? Tell us in the comments below.
Both models are wonderful, making it exceedingly hard to choose between them. Further complicating matters are Martin's OM-28 Modern Deluxe and OM-28E Modern Deluxe models, which are also wonderful guitars. Fortunately, I don't have to choose; I already own a sweet Martin OM-42, courtesy of Maury's Music!
Posted by
Marshall Fleisher
on
02/27/2020 - 01:27 PM
Both are truly great OM's. I've played them both and would be extremely happy with either. I personally give the nod to the OM-28. To my ears, it had a bit more articulation and clarity. And the additional headroom for strumming is nice to have as well.
Posted by
Mike
on
02/28/2020 - 05:20 AM
Both are truly great OM's. I've played them both and would be extremely happy with either. I personally give the nod to the OM-28. To my ears, it had a bit more articulation and clarity. And the additional headroom for strumming is nice to have as well.
Posted by
Mike
on
02/28/2020 - 05:21 AM
I believe the the neck joints are different between these as well. The om-28 having the traditional dovetail and the john mayer having a simple dovetail. I would be curious as to what this means in terms of sound transmission or neck integrity as well as cost savings?
Posted by
Paul
on
03/08/2020 - 01:23 PM