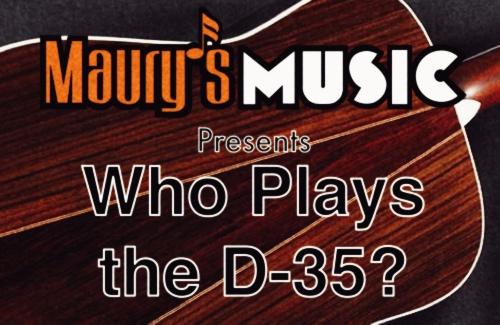 It goes without saying that Martin guitars have a history behind them. For over 150 years Martin has been producing some of the best acoustic instruments in the world and in that time thousands upon thousands of people, both professional and amateur alike, have had a Martin in their hands. They have a presence in the music industry that is nearly unparalleled and this goes a long way to explaining why so many new players are drawn to the brand. For most of us, even before we started playing guitar we loved Martins, whether we knew it or not. Countless artists have used these guitars to write and perform some of the most popular music of the last century and it's fair to say that the Martin sound has played a huge part in the sound of popular music itself.
With so much talk of the D-35 over the last year I thought it would be fun for this week's article to be a rundown of some of my favorite performers who have played and loved this model.
Elvis
Let's get the big one out of the way. Dubbed the King of Rock and Roll, Elvis Presley is one of, if not the most recognizable musician of the 20th Century. With over 30 number one singles, over 20 number one albums and an estimated 600 million records sold, his widespread popularity is indisputable. This is a man who resonated with so many people that an entire industry has risen up around impersonators and to this day you can have "Elvis" play at your birthday party or perform your marriage ceremony.

My favorite Elvis impersonator.
Although not adopted until late in his career, Presley's D-35 may be one of his more well known instruments, as it appeared in many promotional photographs from his final tour in 1977. But this guitar's time in the limelight was short, ending on Valentine's Day, 1977 when a frustrated Presley tossed this guitar across the stage, damaging it's Sitka Spruce top. Rather than being repaired, the guitar was given to a fan in the audience who later sold the guitar at auction for roughly $20,000.00. Not a bad haul for just the cost of admission.
Required Listening : "(You're the) Devil in Disguise"
While admittedly not an acoustic number, I challenge anyone out there to find an Elvis song that is more fun than this one. Also, on a side note, your significant other will not find it amusing when you tell her this song must have been written about her/him.
Johnny Cash
The Man in Black himself. Making the often difficult transition from country musician to widespread fame, Johnny Cash was a legend in his own time and deservedly so. Cash released over 50 studio albums, one of the most famous live albums in history and was the subject of a biographical film, which has been met praise from both critics and audience members. And while his personal life may have been flawed, this only helped his artistic side, giving credibility and authenticity to the raw, unfiltered stories his songs would tell.
Cash was always a fan of Martin instruments and played a variety over his nearly 50 year long career. He worked with Martin on his customized black D-35, with a polished black finish on the body and neck. This black D-35 would be Johnny's go to guitar for the remainder of his life, played by him for over 20 years. Martin has since released a signature edition of this guitar, giving all Martin players a chance to own this iconic instrument.
Required Listening : "Delia"
I can think of no other song that so perfectly encapsulates exactly what made Johnny Cash the icon that he is today. Simple arrangement, dark yet still humorous lyrics and a haunting melody, Delia is without a doubt my favorite Cash recording.

Jim Croce
Although his career ended tragically soon, Jim Croce's influence on 1970's pop music speaks for itself. A true blue collar worker, Croce worked as a welder, construction worker, farm hand and truck driver before finally signing a deal with Capitol Records in 1972, where he achieved his first number one hit with "Bad, Bad Leroy Brown".
Although Croce started writing music on 12-String guitars, in 1970 he made the switch to a Martin D-35, customized with a narrower neck by a friend of his. This guitar, along with a Martin D-18, would be played by Croce until his death in 1973, helping to sculpt the clear delicate fingerpicking sound he would be known for.
Required listening : "Time in a Bottle"
Simple and beautiful, there's a reason that this is one of Croce's best loved songs. Also, it stands as one of those few early 70's folk songs that still makes grown men weep (I'm also looking at you, "Cat's in the Cradle"...)
Seth Avett
Known for his blending of traditional Bluegrass and Country stylings with harder Punk and Rock influences, Seth Avett has developed a unique sound, which is loud and brash without sacrificing intricacies. Releasing albums as both a solo artist and as a member of the Avett Brothers, Seth Avett has played on over a dozen albums in as many years, playing everything from sentimental folk to fuzz laden rock all while making it seem effortless. Although he may be the newest artist on this list I have no doubt that in 20 years he'll be seen as one of the greats of American rock and folk.
Seth Avett has been playing a D-35 for his entire public career, starting with an off the shelf standard D-35 until eventually collaborating with Martin on his own signature D-35 Seth Avett. His signature model varies from the traditional D-35 formula, using a High Altitude Swiss top and Adirondack braces instead of the usual Sitka spruce. This gives the guitar an even sharper attack than the standard model, lending itself perfectly to Avett's aggressive strumming and picking style.

The Martin D-35 Seth Avett
Required Listening : "If it's the Beaches" and "Talk on Indolence"
After going through the entire discography, I couldn't pick just one song to do the band justice. "If it's the Beaches" showcases the band's songwriting and some of Seth's more intricate playing. "Talk on Indolence" is a good example of what traditional folk music sounds like when the musicians grew up listening to too much Nirvana.

Of course , we've barely scratched the surface. Artists as varied as Judy Collins, Pete Townsend, Rory Gallagher and Bruce Springsteen have all played D-35's at some point in their career, no doubt drawn to the traditional yet unmistakably unique sound this model offers. Be sure to tell us who your favorite Martin players are and what model they used to make the music that sticks with you.
Maury, Great post! I've had my D35 for 41 years, still my song writer guitar of choice. The beauty of the 35 is the 1/4" braces in standard configuration - that makes for a unique Martin sound in either finger style, or flat picking!
Posted by
Craig Rantz
on
04/07/2016 - 10:15 AM
You might also want to add Jason Isbell to the list. He's been playing, and raving about, a custom D-35 he had built by Martin a few years ago. It's pretty heavily featured on his recent albums. Here's a video of him discussing it: https://www.youtube.com/watch?v=1LUjv_dpBd4
Posted by
jason
on
04/07/2016 - 10:30 AM
Townes Van Zandt played a D-35 for several years before it was stolen from him. It's the guitar he used for the Rear View Mirror, Live and Obscure and Roadsongs recordings. John Fahey played a D-35 in the late 1970s and early 80s. There is an excellent video of him playing one at the top of his form in 1978 on the German Rockpalast television program.
Posted by
Russ Fitzgerald
on
04/07/2016 - 10:50 AM
Don't forget Molly Venter.... she's played the same Martin D-35 for at least the past 7 years, according to my personal conversation with her. She is with the well known all-female Americana band Red Molly. One of my favorite bands, they are based in the New York City area. You can check them out here: http://www.redmolly.com/
Posted by
Tom
on
04/07/2016 - 11:00 AM
I was hoping this article would have something on the sound: it's signature nature, and how and why it's unique.
Posted by
joe
on
04/07/2016 - 11:36 AM
Hello Maury, The Martin Player that jumps out the most for me is Steve Stills. A D-45 is his guitar of choice, I would say this Martin to me is to ornate. I love Stevens Tuning and I love his tone. But also the hallmark is his lyrics. I have a friend Mike Beck who plays a D-18 who is a huge Steven Stills fan who is in my opinion worthy of a listen to. MikeBeck.com. I have to say I love your site and what it brings to my overall guitar knowledge, keep up the great work. In my search for a pre VTS 1939 Maury's did me right. As for your explanation of 12-14 Guitar I hope my wife never reads it. I used the shorter neck as an argument to purchase recently. Anyways keep up the great work! Regards Max Vander Linden
Posted by
Max Vander Linden
on
04/07/2016 - 11:59 AM
Ray LaMontagne (early albums anyway), John Fahey, Townes Van Zandt.
Posted by
Jason
on
04/08/2016 - 12:17 PM
Here is Bob Shane of the Kingston Trio performing his signature song with a D-35. He had used a D-28 for the early years of the Trio ('57-'61). This was probably mid sixties. Stunning. https://www.youtube.com/watch?v=boCJJQqVWkE
Posted by
Bill
on
05/02/2016 - 04:17 PM
Rory Gallagher used the D35 for his accoustic work.
Posted by
Freek Knol
on
04/11/2020 - 08:00 AM
Rory Gallagher! Most underrated player in the world. Used a D-35 extensively from the late 60's until his untimely passing in 1995.
Posted by
Makeety Makondo
on
01/06/2021 - 11:10 PM
Back in the 70s I was playing a lot of solo gigs around the Detroit Metro area. I had a Gibson J-50 that I liked very much until it was stolen. I took the insurance money, coughed up a bit more and got a Martin D35. What a wonderful piece of work that guitar was. I had it for 25 years and the sound continued to improve. I took a temporary job out of town and while I was gone my ex-wife pawned it for $400.00. I haven't been able to play since that day. Every guitar I pick up is just a cheap piece of crap.
Posted by
Thom Famularo
on
01/30/2021 - 08:47 AM
John Fahey's sole guitar for most of the 70s was a Martin D-35. David Gilmore has a signature D-35. Martin makes a "Woodstock" 50th Anniversary D-35 for inexplicable reasons, since no D-35s were played at Woodstock (maybe someone in the crowd lol.
Posted by
Eric Lowber
on
06/03/2021 - 08:55 AM