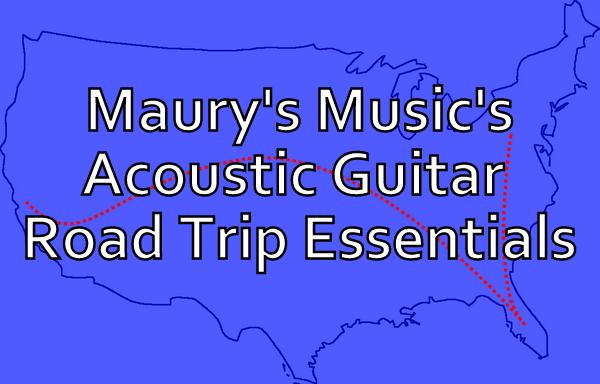 With the official start of summer only a few days ago and the Fourth of July fast approaching we are right in the middle of road trip season. Whether it's to a family BBQ, to the shore, to a music festival or any of a thousand other places, many of us are going to be traveling this summer and there's a good chance your guitar is going to come along for the ride.
So this week I decided to have some fun and go through the different accessories that I wouldn't be caught leaving the house without. Think of it as an acoustic survival kit. Complete enough to give me piece of mind when I leave the house, whether it's for the evening or for a week, but still small enough that it fits easily into the case with the guitar and doesn't give me another piece of luggage to worry about. These are the actual pictures of my own equipment that I took when I was packing for an out of state trip I took with a friend of mine.

Everything I need to keep myself and the guitar happy!

The case itself
A Martin 400 Series case
This one seems obvious, but I really can't stress it's importance enough. Having a solidly built hardshell case is crucial to ensuring the safety of your instrument, especially on the road. Besides providing protection against physical impact, a good case also provides the guitar with a relatively controlled environment that can be accurately humidified. They may be heavier than a gig bag and not quite as convenient to bring along, but the benefits of a solid case far outweigh any drawbacks.
View all of Maury's Music's guitar cases

Two-Way Humidification System
Maintaining proper humidity levels is always important, but possibly more so on the road. With travel comes the opportunity to have your guitar move between drastically different environments, sometimes multiple in a short period of time. Your car may be air conditioned and dry but the picnic you're bringing your acoustic to may be terribly humid. There are a lot of options when it comes to guitar humidity control, but personally I tend to go with the Two-Way Humidification System (previously known as Humidipak). Besides taking a lot of the guess work out of the equation, D'Addario's Two-Way Humidification System has the added benefit of taking in moisture when the humidity is too high and releasing it when it's too low. I'm a pretty forgetful guy so, to me at least, a set it and forget it solution is worth it's weight in gold.
View all of Maury's Music's guitar humidifiers

Picks
Every player needs a pick. Personally, I seem to need about 50. I have an entire Altoids tin filled with about 2 dozen different styled picks, whether those are just different gauges different materials, thumb picks, odd sizes, or whatever else. I find mysel bouncing back and forth between pick styles and I've never been able to settle on any one kind for more than a month or so before I get bored and start using something else.
View all of Maury's Music's guitar picks

Extra strings and a stringing tool
This entry is probably pretty self explanatory. My guitar does not leave the house without an extra pack of strings on hand. On a properly set up instrument you shouldn't be breaking strings too often but it can still happen and, when it does, I guarantee it will be at the most inconvenient time possible.
As for the stringing tool, I can't recommend the Planet Waves String Winder/Cutter enough. It's solidly built, serves 3 functions (Winder, Cutter and Bridge Pin Puller) and will last you a lifetime. It's what we use in the store during setup work and also for work on our own instruments. As an added bonus, even if you don't end up needing it yourself, if you're the only guy with this tool when someone else breaks a string you will be a recognized hero for the rest of the day.
View all of Maury's Music's strings

Truss rod wrench
I'll be the first to admit that this tool doesn't see a lot of action. Truss Rod wrenches are essential tools to have but are only really going to be put to use a few times a year during routine maintenance. Rarely if ever will I have to use one when on the road, but it still comes along. They don't take up much space and they're cheap so why not keep it on hand? I wasn't a very good boy scout but the "be prepared" part does seem to have stuck.
View all of Maury's Music's guitar maintenance products

A capo or two
Without a doubt the capo is the most used accessory I own. Probably 80% of my repetoire relies on it and I couldn't tell you the last time I've sat down with my guitar and didn't use it at one point or another. I particularly like to have them when traveling as I will often find myself playing with new people and a capo is invaluable if you need to switch keys quickly for unfamiliar arrangements. Since all capos have their pros and cons and I'm indecisive, I actually carry two around with me. The Kyser is for when I'm playing solo and want something quick and convenient while the Shubb get's pulled out when I'm playing with a group and can't afford the possibility of the capo affecting my tuning. Most people will be fine with just one so use whatever style you prefer.
View all of Maury's Music's capos

A Digital Tuner
Sure, tuning by ear is a valuable skill to have and impresses the ladies (in my dreams at least), but it's not really practical in a lot of situations. Like most accessories we all have our preferences so bring what works for you. However, if you're in the market for a new one, I personally I'm trust the Planet Waves tuners for their accuracy and their durability. I've gotten years of use out of my current tuner and if it broke today I wouldn't hesitate to pick up another.
I also keep an extra button battery around in case the battery in my tuner dies. Generally they last two years, so it's not something I need to change out very often. However, much like my thoughts on strings I'm pretty sure the first time I take a trip without one will be the same time the battery dies prematurely.
View all of Maury's Music's guitar tuners

A Notebook and a Pen
The simplest tools are often the most useful. If you write songs, you need a place to jot down those lyrics or the chord progression you just worked out. Learn a new chord form at a Bluegrass festival? Need to quick write down a lead sheet for the mandolin player you just met to read from? I've had the same beat up notebook with me for a few years now and it's filled with countless reminders, lists of songs I want/need to learn, song lyrics I can't seem to ever remember, phone numbers and other contact info and poorly drawn marginalia. This is the one item that Maury's Music doesn't actually carry but luckily almost any other store in the world does. I'm hard pressed to think of a better way to spend $2.

One final word
​The most important thing to keep in mind when you take your guitar on the road is to keep the climate as steady as possible. Besides humidity, the biggest problem this time of year is fluctuation in temperature. If you've been driving with the air conditioning on for 8 hours, it's not the best idea to take the guitar out in 80+ degree weather and throw the case open right away. Let the guitar sit for an hour so that the guitar can slowly come up to temperature in it's case. This will help prevent damage to the instrument that may be caused by sudden temperature shifts.

I hope you found this useful. Your own travel kit will depend on your personal preferences and needs, but I hope that showing my own gear can at least help spark some ideas. Happy Travels!
What are your Guitar Road Trip essentials? Post your comment below.