| | |
| --- | --- |
| | Maury's Blog |
Thursday, October 12 2017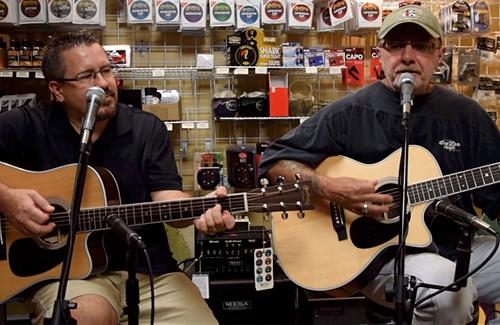 Payne Shelton was born & raised in nearby Summit Hill, PA. He's been playing music on and off for as long as he can remember. Music is not only his pasttime, but a way of life. It's saved him through some difficult times. He encourages everyone to try to get involved. It is - and always will be - a life saver.
Maury installed a K&K Pure Mini in Payne's Bourgeois guitar, and when Payne dropped by to pick it up ... we talked him into playing an original tune for us. Then he taught Maury a Tom Petty tune, for good measure. Maury is playing a Martin DC-35E and Payne has a Martin GPC-35E. Sounded great, Payne - thanks for dropping by!

I just wanna thank Maurys Music for the great installation of the k&k pure mini on my guitar. It sounds awesome. Also I wanna say that martin guitars could not ask for a finer person to represent their products. Maury you are a good man and a accomplished musician and I wanna thank you for the opportunity to play and sing with you.the feedback that I am getting makes my heart go thump. Hope we can do this in the near future. I highly recommend that everyone visits Maurys Music in coaldale, pa. You will see for yourself that all his staff are as helpful and honest as he himself is. Thank you Maurys music.
Posted by
Payne shelton
on
10/13/2017 - 10:53 AM
Awesome! Good job. Loved the original tune
Posted by
Dan Cannon
on
10/13/2017 - 12:02 PM
You guys sound great. Glad you are doing well Payne.
Posted by
Andrea
on
10/17/2017 - 09:24 PM